FLIGHT ITINERARY: BNA to TPA Return Trip
Outbound Flight: Friday, OCT 19
Air Carrier: Secure Air Charter
Departure: 11:20 AM (local time)
Arrival: 2:00 PM (local time)
Estimated time enroute: 1 hr 37 mins
Passengers: 3 of 7 seats occupied
KBNA:
FBO: Atlantic Aviation: (615) 360 8109
635 Hangar Lane, Nashville TN, 37217 (Map it)
KTPA:
FBO: Sheltair Aviation (813) 319 8000
4751 Jim Walter Blvd. Tampa, FL 33607 (Map it)
Passengers: BNA Departure
Billy Ray Barnette Jr

Wesley Lee Little

Blair Kent Masters
Return Flight: Friday, OCT 19
Air Carrier: Secure Air Charter
Departure: 11:30 PM (local time)
Arrival: 12:08 AM (local time) Saturday 20th October
Estimated time enroute: 1 hr 37 mins
Passengers: 5 of 7 seats occupied
KTPA:
FBO: Sheltair Aviation (813) 319 8000
4751 Jim Walter Blvd. Tampa, FL 33607 (Map it)
KBNA:
FBO: Atlantic Aviation: (615) 360 8109
635 Hangar Lane, Nashville TN, 37217 (Map it)
Passengers : TPA Return
Billy Ray Barnette Jr

Wesley Lee Little

Monty Belmont Powell Jr.

Blair Kent Masters

Anna Wilson
Aircraft Details
Aircraft: BE-400A Beechjet
Tail # N311JV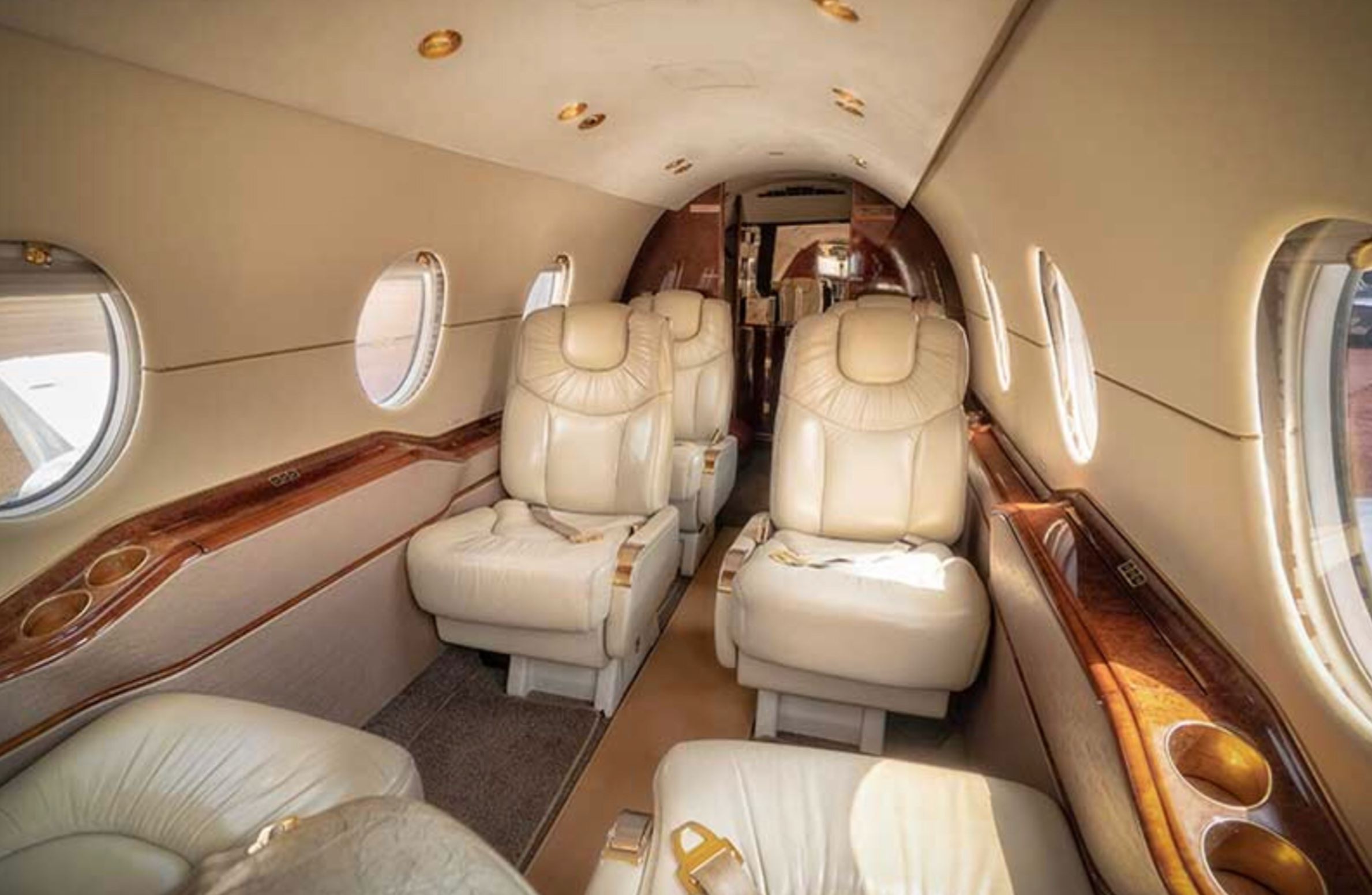 Pilot Captain: Kyle Carlisle : 615 295 7754
Co-Pilot: Robert Heird : 615 545 4011
Aircraft Details for the Beechjet 400
Beechjet 400
Beechjet 400A receives its power from two Pratt and Whitney of Canada JT15D-5 turbo-fan engines. Each engine produces 2,900 lbs of thrust and has an inspection interval of 3,500 hours.
These engines, along with unique design features, allow the 400A to travel 1,500 nautical miles at a speed of mach 0.78. Its maximum speed is 446 knots, another improvement from its predecessor. The 400A has a maximum payload of 2,172 lbs and a maximum flight ceiling of 45,000 feet. 53 cubic feet of baggage space is an additional amenity.
Please contact us if we may answer any questions, or provide additional information: tkobel@airvel.com or call Tracie directly at (352) 220-0141.
About the Airvel Air Charter Marketplace
Airvel is a two-sided marketplace similar to Airbnb. Customers can easily shop, book and manage charter flights.

Instantly search thousands of FAA licensed charter aircraft nationwide.

No membership or pre-pay requirements…ever.

Outstanding customer service. While technology is a key part of Airvel, great customer service is at the forefront of the business's focus. Airvel has dedicated customer support staff that focus on providing the best experience possible.

Easily manage booked trips through your Trip Management page.

Airvel Strategic Partnerships provide upgrades, amenities, and special event access.
Trip Management for Air Charter
Airvel has created an online trip management system. A dynamic trip management page is created instantly for each flight. This customizable page includes flight details, passenger management, aircraft images, private terminal information, air charter operations details, and maps.
The trip page also includes functionality that allows others to join the flight via email or direct messaging. When invited, a passenger registers for an account and indicates that he or she will join the flight. Customers have the option to book the entire aircraft or share the cost with other passengers.
Private Air Charter Safety Standards
At Airvel, your safety and security is paramount and we will never waiver from our commitment to the most stringent standards of private air charter safety.
That's why we only partner with trusted part 135 operators who meet our strict requirements for risk management and passenger safety best practices. With the help of industry-leading third-party auditors, we screen operators, aircraft and pilots using a variety of metrics to ensure they meet and exceed our standards.
FAA, WYVERN, IS-BAO AND ARGUS
As part of our flight management process, we partner with Wyvern and Argus to verify critical information about part 135 operators including:
Adherence to applicable FAA regulations and certifications

In-depth historical safety analyses

Pilot background checks, experience and training certifications

The results of rigorous on-site audits of their fleet

Liability insurance coverage

Emergency response planning and training

Flight department training and certifications

Maintenance records
Airvel also has a mobile app to make booking air charter even easier.
Cancelation policy: Any trips cancelled within 72 hours of the departure time set forth in the Flight Itinerary are subject to cancellation fee equal to the full charge for the cancelled portion of the Flight Itinerary.
Passenger Delays: Please notify AIRVEL immediately if passenger will be unable to depart at scheduled departure time. AIRVEL will make commercially reasonable efforts to accommodate customer delays. However, failure of the customer to arrive for a flight within 60 minutes of the confirmed departure time may subject the applicable flight services contemplated in the Flight Itinerary to cancellation and total forfeiture of payments received.
Other Delays: AIRVEL is not responsible for flight cancellations, interruptions or delays due to weather, maintenance problems, force majeure, or any other unforeseen circumstance not under AIRVEL's control.
Recovery Services: If a flight is cancelled, interrupted or delayed for any reason other than customer delays, AIRVEL will attempt to arrange alternative service for the customer on an AIRVEL aircraft or, if an AIRVEL aircraft is not available, an aircraft operated by an Other Air Carrier subject to the customer's approval of such Other Air Carrier. If the customer agrees to fly via AIRVEL arranged alternative service, (i) the customer is responsible for the original quoted cost of the trip plus other expenses as set forth above, which will be payable to AIRVEL and AIRVEL will make payment on behalf of the customer to the applicable Other Air Carrier for its fees and expenses for providing the flight service. (ii) the customer by its approval to fly via the Other Air Carrier also acknowledges and agrees that AIRVEL shall have no liability whatsoever in connection with the provision to the customer by the Other Air Carrier of flight service, or the failure of such Other Air Carrier to provide flight service, including any damages arising from such Other Air Carrier providing or failing to provide such flight service, other than AIRVEL's obligation to remit payment to the Other Air Carrier on behalf of the customer.
Limitation of Liability: AIRVEL is not responsible for and cannot be held financially liable for any damages that occur as a direct or indirect result of a flight cancellation, interruption or delay, including any consequential damages, lost profits or other missed opportunities. In the event a trip is not completed for any reason, including a mechanical issue with respect to the aircraft, the customer will only be responsible for payment of all costs incurred for the completed portion of the trip. If a Super-Mid Class Aircraft is booked for a Firm Quote where the Trip Itinerary includes airports with operational restrictions (seasonal or otherwise), AIRVEL shall, in the event AIRVEL determines in the exercise of its sole discretion that such conditions will prevent the use of a Super-Mid Class Aircraft, (i) have the right, to change the Charter Aircraft for such Trip and (ii) inform the client through the delivery of a modified Trip Quote. Upon receipt of the modified Trip Quote, client shall have the right to accept such modifications or cancel the Trip without penalty. In the event the client elects to accept the modified Trip Quote, any additional costs associated with the provisions of the Flight Services contemplated by the modified Trip Quote shall be the responsibility of the client.